SHALLOW WATER
DATA ACQUISITION
ARGAS has made a concerted effort to expand our knowledge and capabilities in shallow water data acquisition. Recently, we completed a 15 month 3D two component (2C) transition zone survey using the very surveying technology, comprising:
Recording Systems
Receiver Systems
Offshore - we use two master/slaved Sercel 408 ULS systems, which are perfect for use in small boats and difficult underwater terrain due it its lightweight construction.


Transition zones –Sercel 428 systems with WSPR cables are used due to their high channel counts, high-performing receivers, and improved layout flexibility.


Land - Sercel 428 systems are used with STPL cables.
ARGAS uses hydrophones and a combination of geophones, specialised for use on solid ground (land) or marshland.
Sources
ARGAS uses two shallow water source vessels equipped with airgun arrays in flip-flop mode.


We also use a combination of shot-hole drilling, explosives and Vibroseis techniques.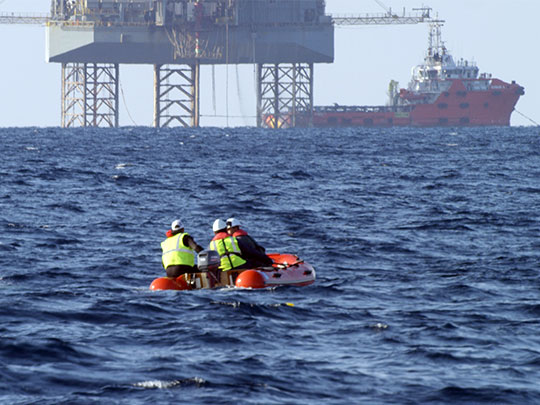 Current Shallow Water Data
Acquisition Projects
ARGAS is currently acquiring a 2D-2C shallow water survey off the shores of Kuwait utilising 50 kilometres of Sercel 408 ULS cable, with a 50 meter receiver point interval using an airgun source.